Your source for professional Paint Protection Film installations


Vinyl bras are unattractive and only provide protection when they are installed on the car. They must be removed in dirty or wet conditions!

| | |
| --- | --- |
| If they are not removed and cleaned on a regular basis, dirt, salt and water under the vinyl bra will permanently damage the paint. A "CLEAR AUTO BRA" by 3M requires no additional maintenance after the installation. Just wash and wax your car as you normally would. It is car wash safe. | |
| | These are actual photos taken at a body shop in Ann Arbor. This kind of paint damage would not have happend if a CLEAR AUTO BRA was installed when the vehicle was new. This customer thought he was protecting the paint with his vinyl bra. Now he is in for an expensive repaint! |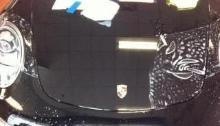 This photo shows an installation in
progress on a 2012 Porsche 911. (The area of the hood, to the left of the emblem is completed)

THERE ARE FOUR COMPONENTS THAT MAKE UP A QUALITY INSTALLATION...

The brand of paint protection film
The type of patterns being used
The installer
A very clean shop
As professional paint protection shop, we stock bulk 3M Paint Protection Film in rolls ranging in size from 6" to 48". A roll of film is loaded into a plotter ( a cutting device ). The tech then uses a computer to choose the correct pattern to be installed from a data base of designs that are created by a pattern company like XPEL. The pattern is sent to the plotter for cutting. Once the kit is cut it is ready for the installer to put it on the car.

This an XPEL pattern for a BMW 3 series sedan. Shown are the components for the hood, fenders and mirrors. Patterned (or precut kits) are always the recommended choice when installing Paint protection film.

We run two plotters for accurate cutting of Paint Protection and Headlight Protection kits.

ALL OF OUR INSTALLATIONS ARE DONE USING...

3M PAINT PROTECTION FILM.
Patterns (also known as kits) designed by XPEL TECHNOLOGIES
"THE 3M GUY" Larry Millen a 3M certified installer
In addition to PAINT PROTECTION FILM we also install Headlight Protection Kits designed and manufactured by XPEL. We offer clear, smoke, blue and yellow. Headlight protection kits will protect your lights from pitting, dulling down from sand blasting, and discoloring. Colored headlight films are considered "for off road use only" and will greatly reduce light output! We do not install film on tail lights.

Xpel 30 mil headlight film installation in progress. Headlight film is almost 4x thicker than paint protection film. We do not recommend using paint protection film on headlights or fog lights.


call (734) 259-0021